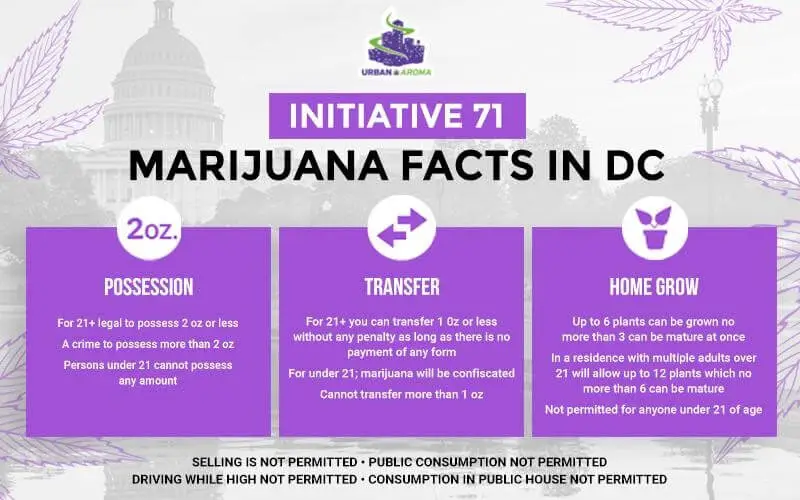 No, weed is not legal for anyone. It is legal for anyone age 21 or older. D.C.'s weed laws are incredibly different than any other places I've come across in the U.S. I'll attempt to keep this short and sweet so you can follow up on what you've learned at your convenience.
Is Weed Legal in DC? Here are the basics of what you need to know.
1. Initiative 71 made it legal to possess 2 ounces or less of weed in D.C. But it's still illegal to sell.
2. You Can't Buy Weed. But you can find a gifting service and purchase something in their store, and they will gift you some bud to thank you for your patronage.
3. If you are a permanent D.C. resident, you can grow your own, with limits.
4. There are areas in D.C. you should avoid if you're riding dirty. You can and will be arrested for possession if you are caught with weed on federal property. Check your maps before you ride dirty.
There are also a lot of details wrapped up in these 4 main points. If you are planning a visit to D.C. and want to get your hands on some weed safely and legally, it would be in your best interest to know and understand how all of this works.
Walk up into a gifting service and say the wrong thing? You're out of there. They will not show you anything but the door. They have a pretty nice guide that I used on Urban Aroma about how to buy weed in D.C. legally. It made things go smoothly the very first time.
Know what you are doing, your route, and how to handle yourself. The real irony of this strange legal circus is they have weed delivery services operating in D.C., they also have weed-friendly hotels.
I haven't checked AirBnB but would be willing to bet they would have 420 friendly options available.